After subscribing to ggLeap, you will receive a URL via email where you can create an account for Web Administrator access. You will be logged in to the Web Administrator after creating the account.

Once you have access to the Web Administrator, the installer can be downloaded through Settings > Client Configuration > Download Installer.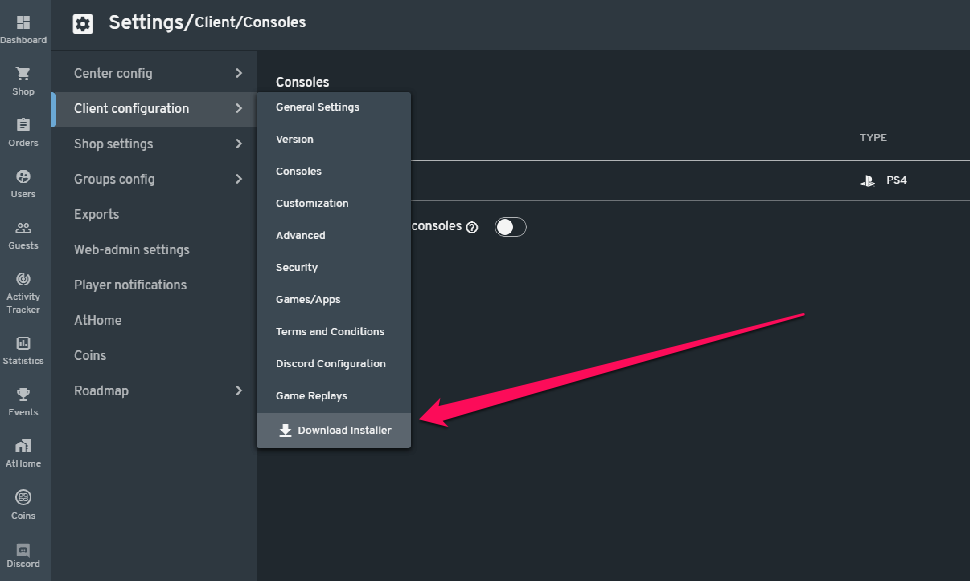 Run the ggLeap installer on any gaming PC, and when prompted, enter your login credentials (the same credentials that were used in the web admin). Then choose a PC name (e.g. PC01).
1. Locate the downloaded installation file and double-click it to begin installation.
2. If a UAC prompt appears, click the "Yes" button to continue.
3. From the "Welcome to ggLeap Setup" screen, click the "Install" button.
4. Observe the installation process.
5. From the "Installation Complete" screen, click the "Next >" button.
6. From the "Completing ggLeap Setup" screen, click the "Finish" button.
7. Observe the installation of the Microsoft Edge Webview2 Runtime (if required).
8. From the "Admin login" screen, enter your ggLeap administrator account credentials.
9. Observe the initialization process of the ggLeap Client.
10. From the "PC name setup" screen, enter a name in the "PC name" text box.
11. When prompted to permit the system to reboot into shell mode, click the "OK" button.
NOTE:
It is important at this phase to ensure that "Keep Writebacks" is enabled for the Machine in question. For more information, please refer to the Machines Manual.
15. After the Machine reboots, observe additional automated post-reboot setup
16. Observe the ggLeap login screen.
After the client installation is complete, you should now see the ggLeap client login screen on your gaming PC and also see the PC appear in the web admin Dashboard. You can perform actions on the PC via the web admin Dashboard.

NOTES:
-The Web Administrator works best using Google Chrome.
-If you are installing on a Windows 7 operating system, you must download and install .net 4.6, and if you are getting login issues while installing ggLeap, perform a Windows update.